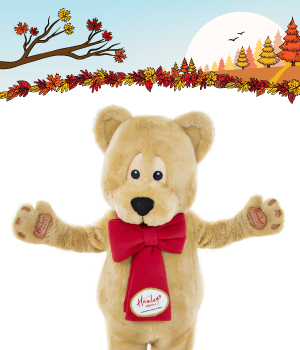 Grand Opening with Hamley Bear
Date: Every Day
Time: Monday – Friday at 10:00, Saturday at 9:30 and Sunday at 12:00
Location: Hamleys Regent Street
How would you like to help Hamley and Hattie Bear open The Finest Toy Shop in the World?
Every morning you can meet our loveable, huggable bears and join in the fun as we countdown to our grand opening. To be one of the lucky children chosen to ring the Hamleys Opening Bell make sure you arrive in plenty of time.
Don't forget to take a selfie with Hamley and Hattie and share on Instagram @HamleysOfficial with #Hamleys
Daily Parade
Date: Every Day
Time: 16:00
Location: Hamleys Regent Street
The Finest Toy Shop in the World is opening its doors to all from far and wide to welcome you to join the fun, magic and theatre! Come along and meet our very own Ringmaster, Pirate, Wizard, Ragdoll and Toy Soldier for our daily parade around the store, and the super special grand finale on 4th floor!
So why not try something new this Autumn and come to Hamleys Regent Street to experience something special and make a memory that will last a lifetime. Starting on the Ground Floor every day. Get ready to dance, move and follow the leader!